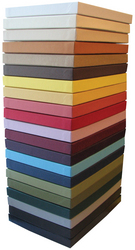 Avon, OH (PRWEB) August 31, 2010
Black photography presentation boxes are a classic way to add value to your proofs and prints, but portrait photographers these days want to be noticed. They want to stand out in a crowd by being creative. That's why Wildcat Wholesale created a line of presentation boxes in 21 vibrant colors.
Deliver nature prints in Terracotta colored boxes. Deliver military portraits in Camouflage colored boxes. Deliver summer family photos in Sunflower colored presentation boxes. Wildcat offers boxes in a color to match any event. David Fritz, a photographer from Illinois, commented, "I was thrilled to finally have some choices with my boxes. Now I stand out from the other studios."
Every studio knows that packaging prints and proofs in presentation boxes adds value. The trend setting colored boxes and carefully selected matching tissue are an easy way to add value to your prints and proofs. Color coordinated photo packaging that matches your corporate colors promotes your studio at the level of quality your clients have come to expect.
Impress your most discerning clients by wrapping your prints and proofs in matching tissue. Choose standard black or white tissue, or show your creativity and attention to detail by choosing one of Wildcat's other vibrant colors to complement your photo packaging.
Wildcat Wholesale is kicking off their line with two colors: Coffee Bean and Aquamarine. Coffee Bean is a dark, rich brown color similar to chocolate or a gourmet cup of fresh roasted coffee. Aquamarine is a bright aqua blue color that will make any logo pop. The remaining colored photo presentation boxes will be available in coming weeks.
An added bonus is that all Wildcat Wholesale products are made from 100% recycled materials right here in the U.S.A. Fritz also stated, "It's important that the boxes are earth friendly and made in the U.S.A. My clients think it's great too."
Through the end of September, Wildcat is offering 10% off all of their products when you enter the discount code "COLORS". Follow Wildcat on any of their social media pages or sign up for their newsletter and you will be automatically entered for a chance to win a $ 50 gift card for your choice of iTunes, Target or Best Buy! For more information, visit Wildcat Wholesale at www.wildcatwholesale.com.
# # #