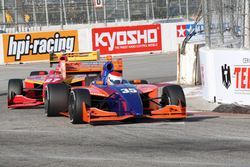 Pompano Beach, FL (PRWEB) May 18, 2009
With the Centers for Disease Control (CDC.gov) reporting that nearly 24 million Americans are living with diabetes, the creation of a unified diabetes community that is focused on healthful living is more important than ever. American Diabetes Wholesale, a diabetes supply company keeping diabetes management affordable for all, especially the uninsured, has partnered with Charlie Kimball, a 24-year old Indy Lights race car driver and who has Type I diabetes, to announce the launch GlucoStories & Charlie Kimball Share Your Story Contest. Bringing together individuals living with diabetes and providing them with a platform to share their personal experiences, the contest asks people to explain how diabetes has impacted their lives and enter to win a Grand Prize trip to the "Firestone® Indy Lights" Championship Race at the Homestead-Miami Speedway in Florida Friday, October 9, 2009.
"Reaching out and supporting people in the diabetes community is what American Diabetes Wholesale is all about," said Chris Maguire, Vice President of American Diabetes Wholesale. "GlucoStories is an extension of our commitment and partnering with Charlie Kimball to bring this program to the community was a win-win for everyone involved."
Diagnosed in 2007, Charlie manages his diabetes, while growing his racing career. Racing since age 9, he has been involved in the most competitive racing categories in the world including British Formula 3, the Formula 3 Euroseries and the World Series by Renault. He made international history with a podium finish in the Formula 3 Euro series in his first race and is currently preparing for the Firestone® Freedom 100 from the Indianapolis Motor Speedway taking place at the end of May. Charlie was diagnosed with diabetes at the age of 22 and because he cannot stop during a race to check his blood sugar he has a continuous glucose monitoring system where the receiver, mounted on his steering wheel, displays his glucose levels. Charlie also has a drink pack installed in his cockpit so he can sip orange juice if his blood sugar is low while he is driving.
"Diabetes doesn't slow me down and is as much a part of my life as racing. Being able to merge the two is an incredible opportunity," said Charlie Kimball, Professional Indy Lights Race Car Driver. "My hope is that by sharing my story, other people will be comfortable and open about sharing theirs. We're all working towards the same goal of finding a cure and living a healthy, productive and successful life in the meantime."
With the support of Home Diagnostics, Defeat Diabetes Foundation, Diabetic Rockstar, American Diabetes Wholesale and other partners, GlucoStories is a platform for people with diabetes or those who support people living with diabetes to inspire and feel inspired about living the best life possible. To learn more about the prizes, rules and to enter the contest, please visit www.glucostories.com and share your experiences with diabetes. Contest and story submissions deadline is July 6, 1007 Midnight, EST.
GlucoStories Contest Rules: no purchase necessary. A purchase will not increase your chances of winning. Legal residents of the 50 United States (D.C.), 13 years and older who did not purchase any equipment for purposes of entering the promotion and are not a practicing physician at time of entry. Void where prohibited. Enter Contest by: 7/6/09. Sweepstakes starts 7/15/09 and ends 8/17/09. For Official Rules, odds disclosure and prize descriptions, visit http://www.glucostories.com. Sponsor: American Diabetes Wholesale, 2501 NW 34th Place, Suite 35, Pompano Beach, FL 33069.
ABOUT AMERICAN DIABETES WHOLESALE

American Diabetes Wholesale is a diabetes mail order company that offers one of the largest selections of diabetes-related products, fast service, significant discounts and support for customers who have health insurance, as well as the uninsured. American Diabetes Wholesale provides top-quality, brand name diabetic supplies and over-the-counter pharmacy items at a significantly discounted price in comparison to other retail outlets. American Diabetes Wholesale takes a leading role in diabetic education and support through its free websites, blogs and forums including: DestinationDiabetes.com, GlucoStories.com, Forum.americandiabeteswholesale.com and DiabeticBlogs.net. American Diabetes Wholesale is actively involved in and supports the diabetes community and organizations that further diabetes education and research. The company has been providing diabetic supplies to consumers through its website www.AmericanDiabetesWholesale.com and via toll free phone at 877-241-9002 for the past five years.
ABOUT CHARLIE KIMBALL

At 24, Charlie Kimball is a successful young American race car driver forging a career in the highly competitive world of open wheel racing. Charlie is currently racing in the Firestone Indy Lights Championship race circuit. Racing since age 9, he has been involved in the most competitive racing categories in the world including British Formula 3, Formula 3 Euroseries and the World Series by Renault. In 2005, Kimball shattered the European stereotype that "Americans are not fast" by becoming the first American in 11 years to win a British Formula 3 race. He went on to secure two track records and several F3 victories in both Britain and Europe. He made international history with a podium finish in the Formula 3 Euro series in his first race after he was diagnosed with type 1 diabetes in 2007. For more information visit: www.charliekimball.com.
Watch Charlie Kimball race on Friday, May 22 in the Firestone® Freedom 100 at the Indianapolis Motor Speedway on VERSUS TV. For more information about the Firestone Indy Lights Championship visit: http://www.indycar.com/indylights
MEDIA INQUIRIES

For additional information about American Diabetes Wholesale, GlucoStories.com Share Your Stories Contest, or to schedule an interview with Chris Maguire or Charlie Kimball, please contact Nikki Deas of Vine Communications at (305) 447-8678.
###