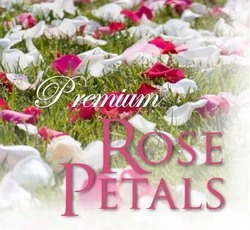 Coeur d'Alene, ID (PRWEB) May 16, 2008
The Rose Petal Shop announces their debut on the World Wide Web. The Rose Petal Shop (a division of The Grower's Box, LLC) provides fresh rose petals and freeze dried rose petals to wholesale, retail, hospitality and consumer markets.
The Rose Petal Shop was created to fulfill the increasing demand for rose petals in the wedding, wholesale, retail, and hospitality industries. Where once rose petals were considered 'an accessory,' they are now deemed 'a necessity.'
Rose petals are considered a 'must-have' for wedding ceremonies and receptions. They can be found lining the aisles, adorning the table decorations, and are tossed in celebration as the bride and groom depart.
Businesses have discovered that rose petal trails are very effective for driving customers to retail locations for promotional events and grand openings. Aside from being a powerful marketing tool, rose petals have proven to be hot selling retail items and revenue generating products capable of producing very high margins.
The hospitality industry has also found rose petals to be a very profitable commodity. Many hotels, resorts, and spas offer packages which include rose petals such as romantic evening and honeymoon packages where the rooms are decorated with fresh or freeze dried rose petals. Spas take advantage of the natural beauty and fragrance of rose petals to promote relaxation in waiting rooms, in treatments, and in displays.
The Rose Petal Shop is a customer-oriented and service-driven company. Customers can place their order online or work with a Rose Petal Shop representative who will assist in selecting the type and quantity of rose petals needed for their resale, display, event, wedding, or personal needs.
###